When creating a marketing strategy, is email marketing or social media marketing better? Social Media Marketing vs. Email Marketing both offer different pros, they also have their own unique cons. Below, we compare social media marketing vs. email marketing, including which form is the best way to market to your audience.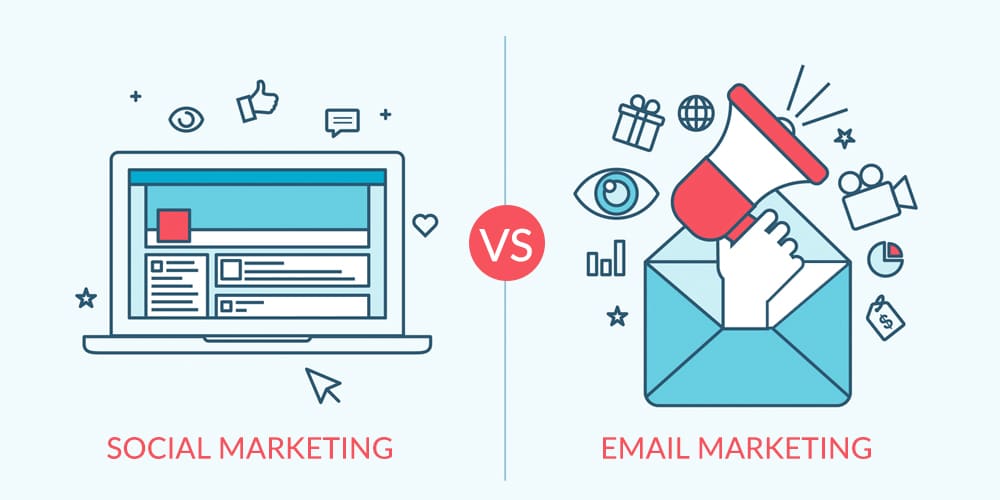 Social Media Pros and Cons
Social media has long been a tool that marketing professionals have used in order to bring in more customers for businesses. However, in the last few years, social media algorithms have changed quite a bit. Because of this, it may not the best way to engage with your full audience organically.
Pros
Can connect with new followers who have never heard of your business
Can help drive website visitors
Helps build your brand and expand your community
Cons
Content is only seen, on average, by 1% of your audience
Very low customer conversion rate, on average
Email Marketing Pros and Cons
Email newsletters have been around for a while but have recently surged in popularity because of issues with social media algorithms, which have limited overall engagement. In 2020, because of the COVID pandemic, they became a great way for businesses of all types to continue to engage and communicate with their audience. 
Pros
Can convert followers into customers
Helps you easily build relationships with your audience in a direct way
Helps you retain customers
Content is sent to 100% of your audience, with an average of 20-25% open rate
Cons
Takes more time to get new visitors/customers that have never heard of you before. Grow your email subscriptions through social media, site visitors, and events.
Social Media Marketing vs. Email Marketing Which Is Better?
Both social media marketing and email marketing offer their own beneficial pros for businesses. If you have the time and budget mixing the two together for many retail businesses is the best strategy. As a retailer if you can only afford one channel spend your time and effort into growing an email list of customers and fans.  For B2B email marketing should be your primary marketing channels and skip social media. For B2B keeping a presence on LinkedIn is useful and you can post announcements and blog articles to your page.  
When it comes to getting the best return on your marketing dollars, email marketing is the better choice. 
FAQ: Does email marketing still work in 2021?
Email marketing still works in 2021. In fact, it works better than ever. Email marketing has steadily grown in popularity over the years — and has far surpassed other social media marketing techniques — and will only continue to grow because of COVID. Plus, email marketing has always been a great way to engage with your audience in a casual yet personal way.
Plan Your Content Marketing Today
At the end of the day, you need a marketing plan that converts followers and visitors into customers. And we know exactly how to make this happen, as we're certified partners with both Mailchimp and Constant Contact. Schedule a time to chat with us to learn more about how we can help you!