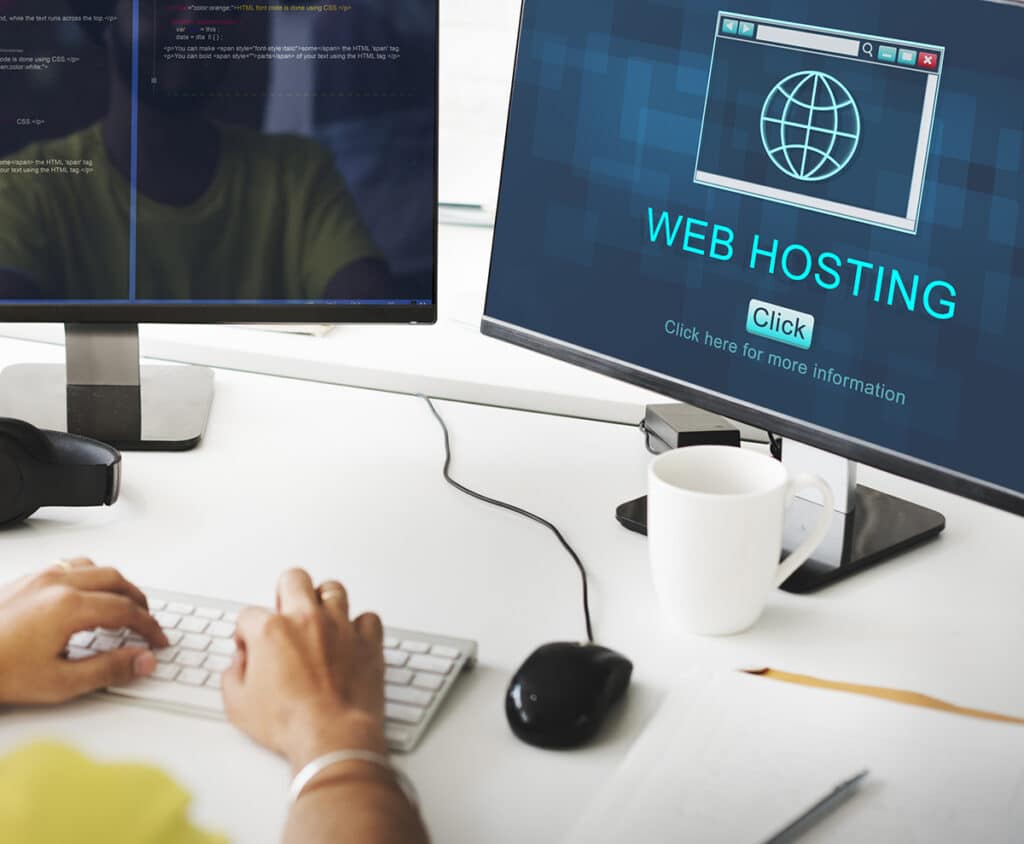 Web design can increase your business' sales, but did you know that good website hosting can improve your business? A good website keeps your site visitors happy and informed — and never frustrated. Slow site speeds and websites that don't load properly can quickly make your visitors annoyed, and potentially make them leave without purchasing anything.
Recently on our podcast, we discussed how things like speed and site performance are often controlled by your website hosting. A website hosting provider runs your website on their servers and is supposed to keep your site up and running, and hopefully in the best shape possible.
To improve your business, check out these 5 things you need from your provider.
What's the difference between a domain name and a hosting service?
While you can often buy a domain name and pay for your website hosting service through one provider, these two investments can also be done separately. When you buy a domain name, you only buy that name — you don't buy a way to host or create that site. When you invest in a hosting service, you are purchasing a service that allows your site to run.
1. SSL Certificate
An SSL certificate is essential in this day and age, as it's a sign that your website is secure and trustworthy for any visitors who happen to stumble upon it. Google takes certificates seriously, and so should you! Ensure that your website hosting provider gives you an SSL certificate, and check to see that your site has a lock beside your domain name in the search bar of your browser!
2. Backups of Your Website
Accidents happen. Don't let a catastrophe like your site going down keep your business from running. Always make sure that you have daily backups of your website, for worst-case scenarios. Many hosting providers offer automatic daily backups where you don't have to do any work, for a small price. Take this opportunity, as it will save you a lot of time and money in the long run.
3. Uptime Monitoring
Always make sure that your site is up and running with uptime monitoring. Basically, uptime monitoring will alert you when your site goes down for whatever reason. This is essential for any business, as you always want your site visitors to have easy access to your website! If your website is down, you can lose sales and waste a lot of money. Don't let this happen with uptime monitoring.
4. Software Updates
Just like with iPhones, your website needs to be updated — whether your site's overall software or updates for your plugins — often. Website hosting can improve your business and save you a lot of time if they allow you to automate software updates, or if they do it for you. You don't want to get behind on software updates, as this could ruin the overall performance of your site. Ensure that your website hosting can do it for you!
5. Link Monitoring
Broken links are yet another thing that can annoy your visitors, something you don't want. It's natural for links to change and content to move around on your site. With link monitoring, you'll immediately be notified if a link on your site is broken, allowing you to fix it ASAP. This keeps your customers from becoming frustrated with your site, and is yet another way good website hosting can improve your business!
Looking For Good Website Hosting to Improve Your Business?
Do you need help with hosting your website? We can help! To learn more about how we can specifically help you, schedule a time to chat with us today!